Being part of history 2020
Documenting Our Experiences
Do you remember being at school and learning about how children felt and what they did during the war?
That is because information was recorded. We are currently living in extraordinary times and future generations will be looking back at our experiences. We asked our School Community to record their thoughts and feelings for future generations.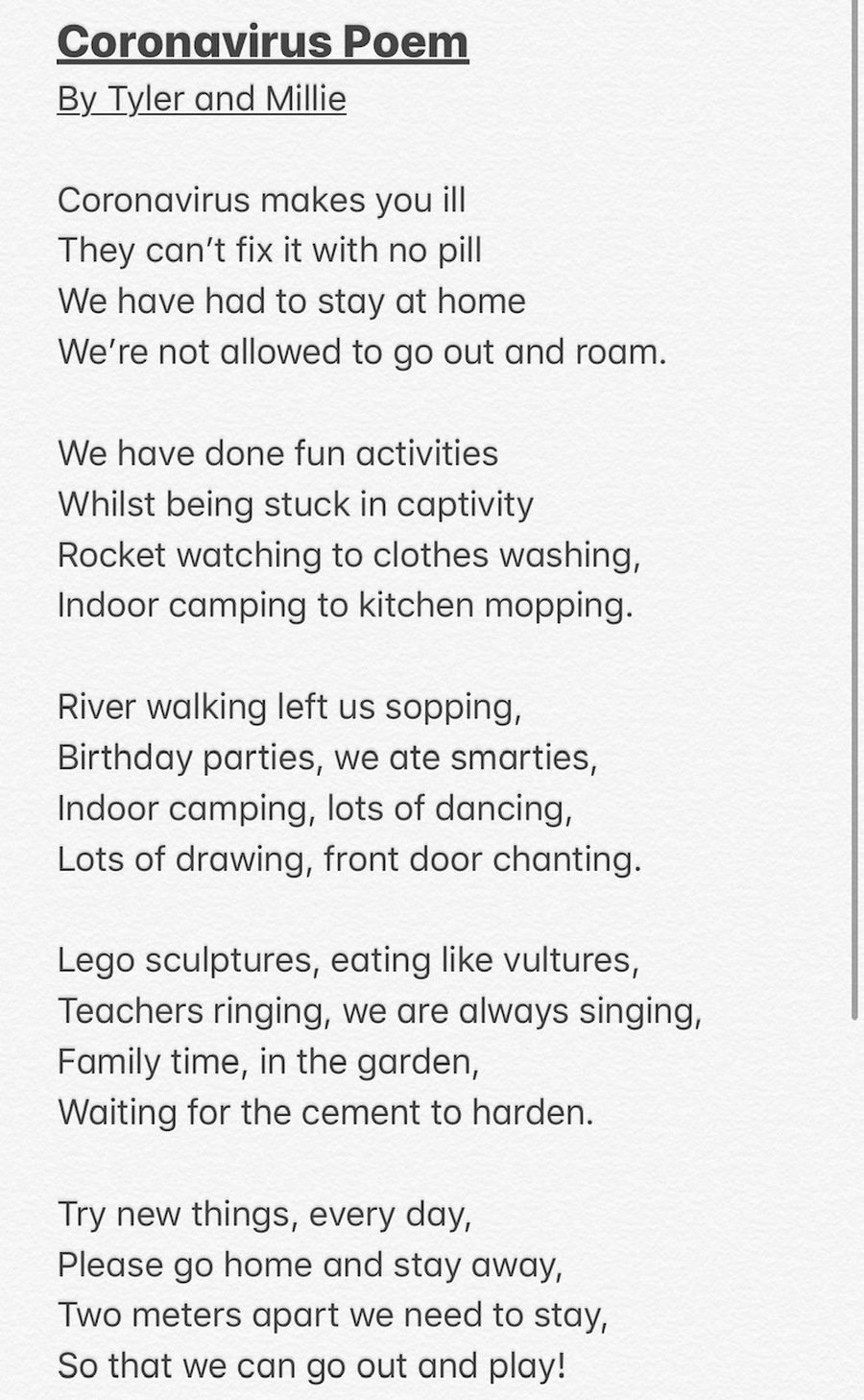 Experience of Lockdown in no particular order - Miss Allcock
*walking
*sorting out my house
*Sorting out mum's house
*Looking forward to shifts at school (even though a little apprehensive)
*doing a video phone call for the first time
*zoom quizzes on a Saturday night with my children and their partners
*my daughter leaving flowers on my doorstep, talking to her through the window, giving her a hug (with a pane of glass between us) both of us in tears.
*realising that all mum's years of hoarding had been leading to this moment - to give me something to do and keep me busy - going through her stuff has been a real journey, in tears one minute and laughing out loud the next.
*I love living on my own but this is a whole different ball game - to not be able to pop round and see my children and grandchildren is a killer
*good days/bad days
*groundhog days
*knowing that everyday that passed is a day nearer to some sort of resumption of "normal life"
*Loving how much Miss Gregory is enjoying herself
*missing the children from school (who were at home)
*as the days pass you get more and more used to it
*I became a dab hand at social distancing whilst out walking - zig zagging from one side of the road to the other - it was great because it increased the number of steps you were doing.
*One day I remember ( and I love walking) thinking "I don't want to go for a walk today!" and then realised how lucky I was that I could go for a walk.
*wondered at the beauty of Spring during my walks
*loved listening to the birds singing
*despaired at the speeding drivers
*was so grateful that my dear mum didn't have to endure any of this.
*started watching "Vikings" (on the recommendation of the lovely Miss Gregory)
*enjoyed not having to put my alarm on every week day.
*started reading books again
*am even stronger than I knew myself to be
Thoughts on "Being part of History 2020" by Miss Chesworth
Inside my head by Miss Twist
Being part of History 2020 by Mrs Drabble
The date 20.3.2020 is one that will remain embedded in my memory forever.
As I watched news of the developing world pandemic, I could not believe what I was seeing. When I heard that our school would be closing, I was very shocked and felt anxious about what the coming weeks would bring. Many questions filled my mind: Would I see the Year 6 children again before transition? When would I see my work colleagues again? One of the first things I noticed when I did eventually return to our classroom was the calendar still showing 20.3.2020. It felt very emotional.
Since the school closure, I have enjoyed time with my husband, who has been working from home. Like many people, we have kept busy: getting household jobs done, gardening, decorating and indulging in some hobbies. This has given some comfort during these troubled times. However, an underlying sense of unease has remained as the pandemic has developed. As well as this, I have missed my extended family: my parents, children, their partners and grandchildren. We have managed to keep in contact, but I look forward to us all being together again in person soon. Overall, I have tried to remain positive and optimistic over the last few weeks; I look forward to being reunited with both my personal family and my school family very soon.
Being part of History 2020 by Mr Morgan - Chair of Governors
Although I am retired, lockdown has given me the opportunity to do some "rainy day" things, not least doing some reading. I was born in 1956 and thought we had a relatively easy life, that is until I started reading about things that I can hardly remember. For example in 1969 80,000 died in the UK in an influenza outbreak and in 1961 the world was very close to nuclear war.
Life is a series of challenges and most people get through somehow, but what it does make you make you realise is that we are stronger when we work together.
The press almost enjoyed reporting all the bad things that were happening such as the battle for toilet rolls and hoarders stripping the shelves of essential items. What they didn't report was all the good things that were happening, where people were pulling together and looking out for venerable neighbours. The people who went into work to make sure there was food on the table, that there was transport, the nurses, doctors, cleaners, school staff; so many heroes.
All this will soon be history and one of the most important tasks will be to make sure the children catch up and get the best possible education so that when we have the next challenge we are as prepared as we possibly can.
Being part of History 2020 by Baroness Ann Taylor - Past Pupil
My story of lockdown will be familiar to many people as I have spent the last few months at home and life has most definitely not been as normal.
After four decades of splitting my working week between Parliament in London and home in the north, the lockdown has kept me firmly in my place.
I have not travelled physically but I have kept connected virtually. I have learnt the difference between Skype, MS Teams and Zoom and I have even learnt the art of multi screening for conference calls and committee meetings. I definitely don't like the backache which is one result of sitting in front of a screen for hours.
But technology has its upside. My daughter might role her eyes if I post on Facebook but that has brought a highlight as one post brought me in touch with someone who, like me, started school at Johnson Fold on the day it opened.
I hope one outcome of the Covid experience will persist- the very real appreciation of our NHS which we should never ever be underestimated.
Being part of History 2020 by Kathleen Thornton - past pupil 1953-58
The new decade, 2020, a holiday was booked to celebrate an extra special birthday for my husband, not forgetting our wedding anniversary on the same day.
March, the onset of lockdown, fear set in for me due to 2 really bad, back to back colds and a terrible cough. The orders from the government were obeyed and my husband and I ceased to do all our normal things. Thankfully we had family and fantastic friends who did our shopping etc.
However the closing of Leisure Centres meant the end of my weekly swim, an excercise I had enjoyed for 68 years and sorely missed.
We took advantage of our allowed, 1 hour walk, for which we toured the estate, bringing back memories as we did so, my husband learned much more about where my childhood hours were spent and people who had lived on the estate. Sadly most are no longer with us as my memory dates back to 1952, but we did manage to speak or wave to some very long time residents on our travels.
Everything became very quiet, so few people about, no children playing, the school asleep.
We enjoy our garden and this became even more of a haven for us, the weather was kind, if too hot for some, but a great regret was that garden centres were closed and containers remained bereft of flowers, but it had never been as tidy.
Just as the balance of our holiday was paid, we received news that the flight, therefore the holiday had been cancelled, with great thanks, things had started to relax that day and a favourite place had re-opened, so the birthday/anniversary can at least be celebrated.
Will things ever be the same again?
Being part of History 2020 by Miss Williams Y1 teacher
In March 2020 we were told that all schools in the country would go into lockdown due to Covid 19. No one in school had experienced this before and we had no idea what would happen in our school community. Children of key workers were still allowed to attend school but had to be put in groups known as bubbles and had to stay within these to ensure they were social distancing at all times. This was a strange situation for all as we are constantly working closely to children and children are always playing closely together, but this was all about to change. After May half term, Year 1 children were allowed back into school along with Nursery, Reception and Year 6. Being the Year 1 teacher, I was unsure as to how we could facilitate this effectively. However, the Year 1 children who did return were split up into different bubbles, 5 children in one class and 3 children in another. These children would see a big difference as to what they were going to experience in school. Children had their own tables 2 metres apart from one another, they had their own packs with pencils, rulers and scissors, they were constantly washing hands in the morning, after coming in from play time and before going home.
The whole country has been affected by Covid 19 and from personal experience it has been a really difficult time. My family experienced a family member going into hospital. This was very distressing and seemed cruel at the time because the family were unable to go to hospital in the ambulance or even visit him for over 10 weeks. He was moved to different hospitals and in each hospital he had to have a Covid test to ensure he was not carrying the virus. Hospitals did not allow any visitors throughout this pandemic which has been really hard but so many families are going through the same experiences. Life has changed, our 'normal' has changed and we do not know if and when we will see normality again. For the moment, we need to get used to this new 'norm' where we must wear face masks on transport, queue up to enter a shop and keep our social distance from others.